Legends of Omeria is a successfully funded Kickstarter project by DMDave/Hamrick Brands LLC. As Editor in Chief for the Legends of Omeria project, Scott Craig offered his design and layout services for every aspect of the starter set, including the game box, the campaign and rule books, the punch-out minis, the maps, the GM Screen, and the character sheets. Delayed by mismanagement, shortages and other challenges caused by Covid-19, Jennifer Craig was brought into the Legends of Omeria project in May, 2021 replacing all former contractors hired to coordinate the project. Acting as Director of Logisitcs, Jennifer worked diligently to get the Legends of Omeria project back on track by quickly establishing a comprehensive logistical strategy where none had previously existed, and then immediately putting the plan into motion. Some of the services Jennifer provided for the Legends of Omeria project include: terminating the agreement with the previous manufacturing company, the hiring of a well-known & reputable board game manufacturer in China, overseeing the artwork files, establishing proper dimensions, weights and manufacturing materials to be used for the game box and its components, overseeing the proofing process, establishing an agreement with a US-based freight forwarding company for customs export from China, cargo shipment by sea, import customs to the United States, Greece and Australia/New Zealand, forwarding by land from all ports to global distro warehouses, and contracting a 3PL distributor with expertise in global board game fulfillment. At her departure from the project on March 18, 2022, Jennifer stated that the Legends of Omeria Starter Set project has every element in place that it needs to succeed during the very last step of the project.
Click on Image to Watch Unboxing Video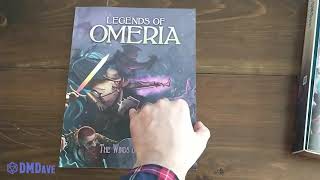 Vault of Wonders Legends of Omeria Unboxing Video
Vault of Wonders Legends of Omeria Unboxing Video

Unboxing video of the approved proof of the Legends of Omeria Starter Set, hosted by Scott Craig of Vault of Wonders LLC. Scott did the complete design & layout for Legends of Omeria and all of its components, providing his services as Editor in Chief for the project. Jennifer Craig provided her services as Director of Logistics from May, 2021-March, 2022, including the formulation of the project logistical and manufacturing plan, overseeing of art & proofing, the selecting of production materials, hiring of 3PL and 3PF companies for exporting/importing, freight forwarding and global distribution.
Hover on Image to Start or Pause Slideshow